Sandstone Pool Coping and Pool Pavers
Sandstone Pool Coping and Pool Pavers
When it comes to finding the best pavers for your swimming pool and deck, you need to find a balance between price, durability, and versatility. Sandstone is one of the most suitable natural stones for interior and exterior home décor applications.
Being a hard-wearing material, sandstone has the potential to resist salty pool water and harsh weather elements. It is quite easy for the manufacturers to shape sandstone according to your requirements. Additionally, this natural home décor material comes in a wide variety of shapes, colors, and textures.
What sets sandstone apart from other natural stones is its strong grip. Architects prefer sandstones in wet and slippery areas because of its durability and anti-slip property. Let's take a look at the common types of sandstone pool coping.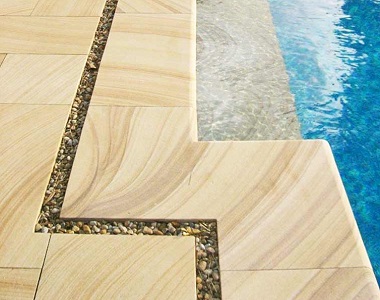 "Teakwood Sandstone Bullnose Coping"
Available in different sizes and shapes, bullnose pavers are the homeowners' ideal choice for a number of exterior décor applications. For example, bullnose pavers are mainly found around the swimming pool and on stair treads. They are easier to place and require low maintenance. These pavers are sold in different patterns such as full-round pavers, square face, and square arris pavers. You can purchase the trending dropdown bullnose pavers or opt for a traditional-style material – whatever fits your requirements and suits your landscape.
Tumbled Pavers for Pool Coping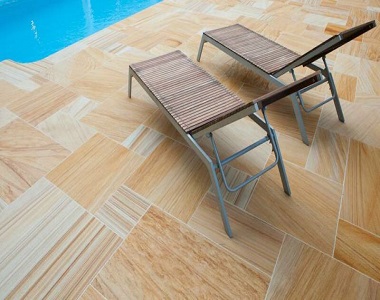 "Teakwood Tumbled Pool Coping"
Pool coping doesn't just look aesthetically appealing. The main reason for installing pool pavers is safety. Many accidents happen near the swimming pools every year. Homeowners need to be extra careful with the paver material they choose for swimming pool coping, especially if they have children. The materials that feature anti-slip property can prevent unexpected falls and accidents. Tumbled paver is one such option for exterior paving.
These 1.25 inches thick and porous stones are a perfect option for areas that receive heavy foot traffic and moisture. That's the reason why travertine tumbled pavers are often seen on the driveway, walkways, patios, and area surrounding the swimming pool. Not only can they resist hot weather, but Tumbled pavers can endure the cold season as well. That's one of the specialties of this weather-resistant stone.
Drop Face Sandstone Pavers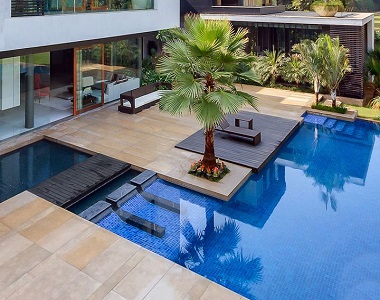 "Himalayan Drop Face Sandstone Pool Coping"
Sandstone pavers are available in drop face pattern. These materials are extremely durable and versatile. Used for a wide range of exterior and interior décor applications, drop face sandstone pavers are extensively found on decks and patios. In fact, they look stunning near the swimming pools. Mostly, architects recommend drop face sandstone pavers for pool coping. In addition to featuring a non-slip surface, this modern-style natural stone can endure the hot weather seamlessly. Drop face pavers are the best options for pool coping and driveway paving. You could also use them for flooring purposes.
Square Edge Coping Stones
"Square edge Himalayan Sandstone Coping Tiles"
Swimmers need some time to stand on the pavers before they take a jump in the water. Similarly, it's natural for people to want to sit by the pool on hot summer days and spend some quality and fresh time with their loved ones. Of course, you will search for a non-slippery and robust natural stone that can endure foot traffic. Square edge coping stone is the ultimate choice for pool coping.
As mentioned before, the pool coping sandstone materials are available in multiple types and finishes. Some stones feature round shapes, while others are sold in square edges. Bullnose pavers feature a round shape, which is considered quite secure and comfortable for swimmers. Square edges are equally effective and sturdy. They add a touch of elegance to your deck.
Different Finishes
Sandstone is available in different finishes. Some prefer honed sandstone while others like polished material.
Honed sandstone features a soft and consistent surface. It is the most common finish found in sandstone. Honed stones are widely used for interior applications such as kitchen countertops, wall dressing, and floor.
Tumbled sandstone has the smoothest surface. The manufacturers turn the sharp edges of the material into the soft surface. As mentioned above in the article, tumbled stones can be used for pool coping.
Polished sandstone is especially recommended for homeowners who need a glossy and modern surface. The stone goes through several chemical and abrasive treatments to get a polished look. It is a good option for outdoor décor applications, but polished sandstones cannot resist moisture. They are quite slippery. So, if you are planning to install sandstone near your swimming pool or in a wet area, then polished material might not be your best pick.
Hand-cut Natural Sandstone
The simplest form of sandstone is the one where no abrasive and chemicals are used to accentuate their natural color or texture. As the name implies, manufacturers shape hand-cut natural sandstones manually. The stone is rough. It offers a good grip. That's one of the reasons why most homeowners prefer hand-cut natural sandstones for pool coping.
Bottom Line
So, these were the different types and finishes of sandstones for pool coping. Many homeowners choose sandstone for pool coping and driveway paving. The material is extensively used in the areas that receive a significant amount of moisture.
Sandblasted sandstone pool coping and pool pavers surrounding a luxury pool in Melbourne's eastern suburbs. View our entire sandstone range.
Conclusion
Beautiful Sandstone pavers and sandstone tiles are perfect for installing around the swimming pool area, outdoor pavers, garden sitting areas, patio pavers, driveway pavers and more.
Are you looking for various textures and colors in sandstone for your home or other residential property? If yes! then check out our variety of sandstone pavers available in various sizes and thicknesses.
We deliver tiles and pavers across Australia mainly in Victoria, New South Wales, Queensland, Tasmania and southern Australia.
We provide FREE SAMPLES + FREE QUOTE + FREE EXPERT STONEMASON ADVICE. To take full advantage of all our benefits, you are just a phone call away. Give us a call today on (03) 9706 9767 and receive a price estimate on your choice of pavers.
Simply just fill our contact us form for any sandstone related questions.
Get some laying ideas from our stunning collection of sandstone pavers image gallery.
If you have got any questions related to laying of sandstone pavers or something similar. Feel free to get in touch today!
Hope you enjoy reading our blog post.