What are Sandstone Pavers?
What are Sandstone Pavers?
Sandstone serves to be a beautiful natural stone floor covering. A rising number of homeowners in Australia are realising the importance of using sandstone pavers as the perfect paving material for their outdoor applications.
In fact, the utilisation of sandstone as paving materials has been in practice for over several centuries. In this post, you can know more about sandstone pavers and how they are the topmost choice when it comes to handling outdoor landscaping projects.
Sandstone Pavers Overview
"Sandstone Stepping Stones"
Sandstone serves to be a mesmerising flooring option featuring a distinctive style. The natural stone flooring blends in the style that resembles the golds, reds, tans, and the browns of the desert and beach sand. Therefore, this multicoloured stone can help in adding a perfect decorative touch to the given area.
Moreover, the mere fact that the stone is natural implies that its natural properties are not monitored by some manufacturers. Therefore, you can expect to receive the top-notch quality of the natural sandstone along with its myriad of benefits.
Amongst its most famous range of benefits, sandstone pavers are known for their hard-wearing nature. They are highly durable and capable of withstanding harsh weather conditions and even regular wear & tear. Pavers that are made out of sandstone are known to retain amazing conditions even after prolonged exposure to sunlight & water.
Moreover, these pavers also turn out highly economical in comparison to other options. Therefore, it would only take several decades before you would need any repair or replacement task on the pavers. Let us discuss some more important points on the benefits offered by sandstone pavers for your landscaping project.
Benefits of Sandstone Pavers
"Teakwood Sandstone Pavers"
There are several benefits of sandstone pavers that make it a highly sought-after choice amongst homeowners and commercial property owners in Australia. Some important points are:
Natural Aesthetics: When it comes to the quality of natural materials like sandstone, there is always something incomparable. The same is the case with sandstone flooring or pavers. The natural stone is known to vary in colour from the spectacular white tones to black & charcoal variants, and even multicoloured maelstroms to enhance the overall aesthetics of any flooring project. Sandstone is known to feature vast stretches of amazing hues while symbolising the essence of rock & earth to enhance the overall appearance of the given landscape.
Uniqueness: As sandstone hails its origins from the nature itself, the hues, patterns, and the intense colours found in the individual pieces tend to be completely different and unique. As sandstone gets quarried, it is available as giant slabs. These slabs are then processed accordingly to be cut into small-sized pieces.
This implies that every single piece of sandstone or tile in the given flooring project is a random sample from the massive masterpiece of mountain-like size from different corners of the world.
Durability: While granite and slate are more durable than sandstone, still this natural stone for flooring is known to be durable enough to last for several decades at a stretch without any damages. Moreover, it is also simpler to take care of and maintain the sandstone pavers.
Impressive Texture: As sandstone is a type of rock, it is known to be derived from the mountains, all jagged and craggy in its natural state. When you are laying down sandstone as flooring tiles, it is leveled out with the help of a process referred to as "gauging."
As such, you are provided with multiple options when it comes to sandstone flooring. This is because the process of gauging can be improved towards honing the tiles into smooth, glossy surfaces or even polishing them to result into a flat, glistening surface.
Replaceable: As sandstone flooring is implemented by installing sandstone as individual tiles or pavers, the tiles can be easily replaced or removed as per the requirements of your landscaping project.
Versatile: Another great feature of sandstone pavers is that these are highly versatile. Engineers, builders, property owners, and architects are given the option to choose from a wide variety of colours and patterns available with sandstone pavers. You get to pick from a myriad of colour options, including pale pink, sandy yellow, pastel blue, red, light green, beige, cream, and brown.
Moreover, the property owners or architects also get to choose from whether the sandstone pavers are arkosic, quartzite, or greywacke in texture. Some of the unique design patterns for sandstone pavers are basket weave, running bond, interlocking patterns, and herringbone.
Applications of Sandstone Pavers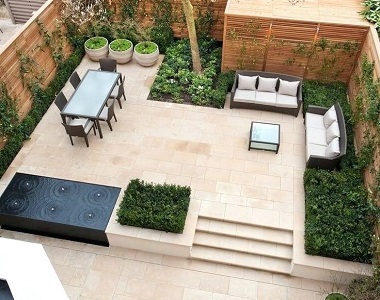 "Himalayan Sandstone Pavers"
As far as the overall range of applications and versatility with sandstone pavers is concerned, these natural stones are highly favoured as well as preferred by the architects and designers. Some of the common areas of application for the sandstone pavers in a landscaping project are:
Patios: Both residential, as well as commercial property owners in Australia, prefer sandstone pavers for designing patios when they are looking for something aesthetic and functional at the same time.
Garden Paths: When you choose sandstone over other flooring options, it allows you to design beautiful garden paths that are highly durable at the same time.
Additionally, sandstone pavers can be used for areas like wall cladding, swimming decks, balconies, driveways, and so more.
Conclusion
Beautiful Sandstone pavers and sandstone tiles are perfect for installing around the swimming pool area, outdoor pavers, garden sitting areas, patio pavers, driveway pavers and more.
Are you looking for various textures and colours in sandstone for your home or other residential property? If yes! then check out our variety of sandstone pavers available in various sizes and thicknesses.
We deliver tiles and pavers across Australia mainly in Victoria, New South Wales, Queensland, Tasmania and southern Australia.
We provide FREE SAMPLES + FREE QUOTE + FREE EXPERT STONEMASON ADVICE. To take full advantage of all our benefits, you are just a phone call away. Give us a call today on (03) 9706 9767 and receive a price estimate on your choice of pavers.
Simply just fill our contact us form for any sandstone related questions.
Get some laying ideas from our stunning collection of sandstone pavers image gallery.
If you have got any questions related to laying of sandstone pavers or something similar. Feel free to get in touch today!
Hope you enjoy reading our blog post.