Sandstone in its natural form
Sandstone in its Natural Form
Sandstone is a popular construction and renovation material for architects and homeowners. This natural stone has multiple applications ranging from patio paving to pool coping and wall cladding.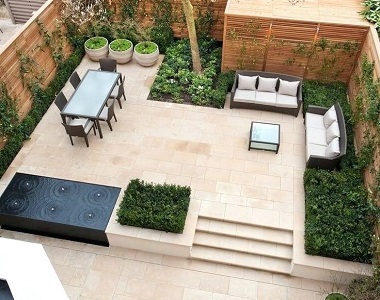 "Himalayan Sandstone Pavers"
One interesting quality that sets sandstone apart from the other paving materials is its warm and light tones. Made of tiny sand-sized particles, sandstone is a durable and versatile material. The stone is cut into multiple slabs so that it can fit different types of landscapes.
Just like its colour and design, sandstone is available in different finishes. The first and the most natural finish is the hand-cut sandstone. Basically, the manufacturer cuts and shapes sandstone using the manual trimming methods. Since the stone doesn't undergo machine treatment, it retains its original look.
The hand-cut sandstone offers you the purest tiles and pavers for your exterior paving applications. It is especially recommended for those who want to retain the old-world charm. If you have a retro-inspired home, then sandstone in its natural and purest form will be the best paving option.
Many homeowners choose honed and polished sandstone to get a smooth and consistent surface. Honed sandstone is extensively used for wall cladding and flooring.
You must have seen the honed stones installed on the kitchen countertops, the wall surrounding the fireplace, and kitchen backsplash. This finish gives a consistent and smooth look. Sandstone, just like other natural stones, is sold in different finishes. The most common ones are:
Natural finish
Polished
Honed
Machine cut
Bottom calibrated
Tumbled
Brush polished sandstone
In order to give a consistent and soft finish to the material, manufacturers use additives and chemicals on the natural sandstone. As mentioned before, sandstone looks perfect in its natural form.
Besides that, the sandstone in its natural form is sturdy and water-resistant. The natural pavers have the ability to last for several years without showing a single sign of wear and corrosion. In fact, the natural finish looks more beautiful as it ages. The natural stone is highly durable. It can withstand the harshest possible weather.
"Teakwood Sandstone Pool Coping"
Polished and honed sandstones, on the other hand, come with a glossy finish. They look stunning on the exteriors and interior walls and floors. You could install polished sandstone on your patio. However, the polished finish makes the material porous. You cannot install a honed, tumbled, and polished sandstone anywhere near the swimming pool, fountain, bathroom, kitchen, and other such wet areas.
This stone gets slippery when exposed to water. As a result, it increases the risk of accidents. Natural sandstone makes a perfect fit for all areas. You could install it indoors and outdoors. Sandstone in its natural form can be used for pool coping and paving.
Conclusion
Beautiful Sandstone pavers and sandstone tiles are perfect for installing around the swimming pool area, outdoor pavers, garden sitting areas, patio pavers, driveway pavers and more.
Are you looking for various textures and colours in sandstone for your home or other residential property? If yes! then check out our variety of sandstone pavers available in various sizes and thicknesses.
We deliver tiles and pavers across Australia mainly in Victoria, New South Wales, Queensland, Tasmania and southern Australia.
We provide FREE SAMPLES + FREE QUOTE + FREE EXPERT STONEMASON ADVICE. To take full advantage of all our benefits, you are just a phone call away. Give us a call today on (03) 9706 9767 and receive a price estimate on your choice of pavers.
Simply just fill our contact us form for any sandstone related questions.
Get some laying ideas from our stunning collection of sandstone pavers image gallery.
If you have got any questions related to laying of sandstone pavers or something similar. Feel free to get in touch today!
Hope you enjoy reading our blog post.